Now, Lowest Prices Guaranteed
On All Inks & Consumables!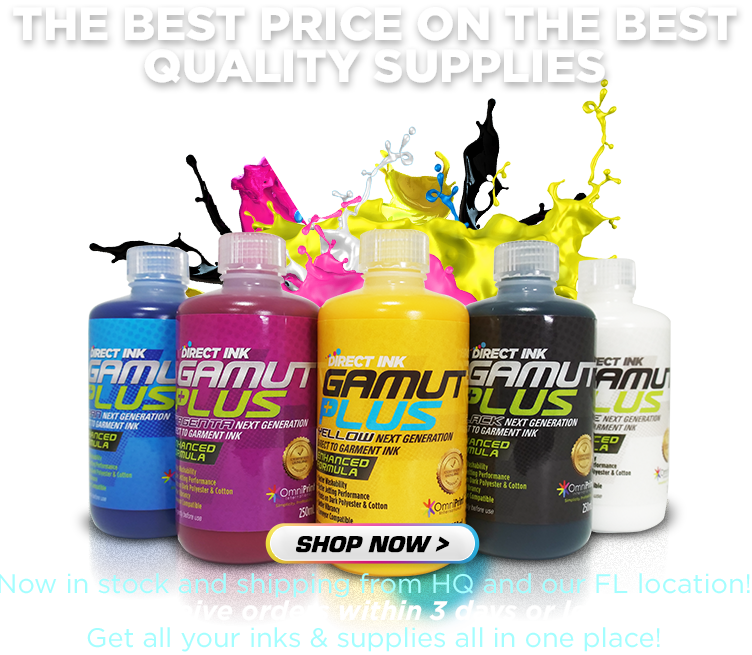 Gamut Plus
Performance Advantages:
Print On More Product Types:

Print on dark polyester, cotton, and cotton/poly blends.

The Brightest White in the Business:

Print solid white, cover more with less ink usage.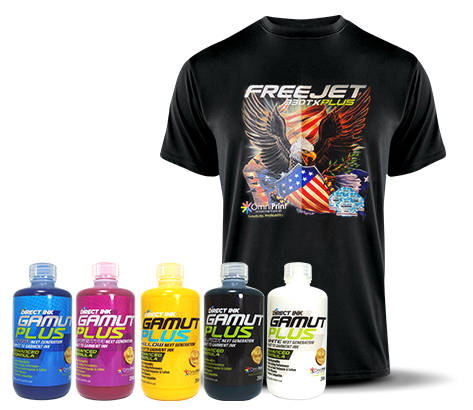 Shipping from HQ and our FL location:

Receive orders within 3 days or less!*

Batch To Batch Reliability:

Gamut plus are built from the ground up to insure quality and repeatability.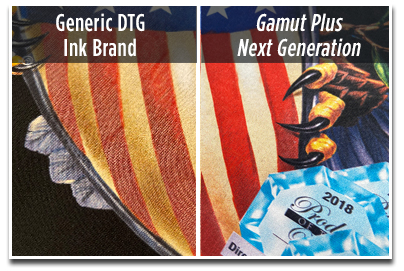 Better Washability:

Gamut plus inks are built with washability in mind our inks simply stand up to more washes and retain their brightness.

Fast Setting:

Designed to "set" faster which means you can take advantage of the one pass modes on your printers. No more waiting for white ink to set before printing the color pass.
Direct Ink
Digital textile inks made to produce superior results. Experience the difference!
Print brilliant, full color images.

Long lasting and wash-fast prints. Economical pre-treatment for dark garments.

Bulk Ink = More Profit

Print more profitably with bulk ink! Repeated side-by-side comparisons show that our high-flow bulk ink system combined with our low prices saves owners 50% or more on ink costs versus proprietary cartridge system ink.

Vivid Prints Every time

OmniPrint's own bulk ink – based on industry-leading DuPont® Artistri® , Direct Ink is formulated to produce superior results. Experience the difference!

Authentic DuPont® Artistri® Technology

Don't be fooled by other companies selling you untested ink. Rest assured your prints will shine with briliance and stand the test of time.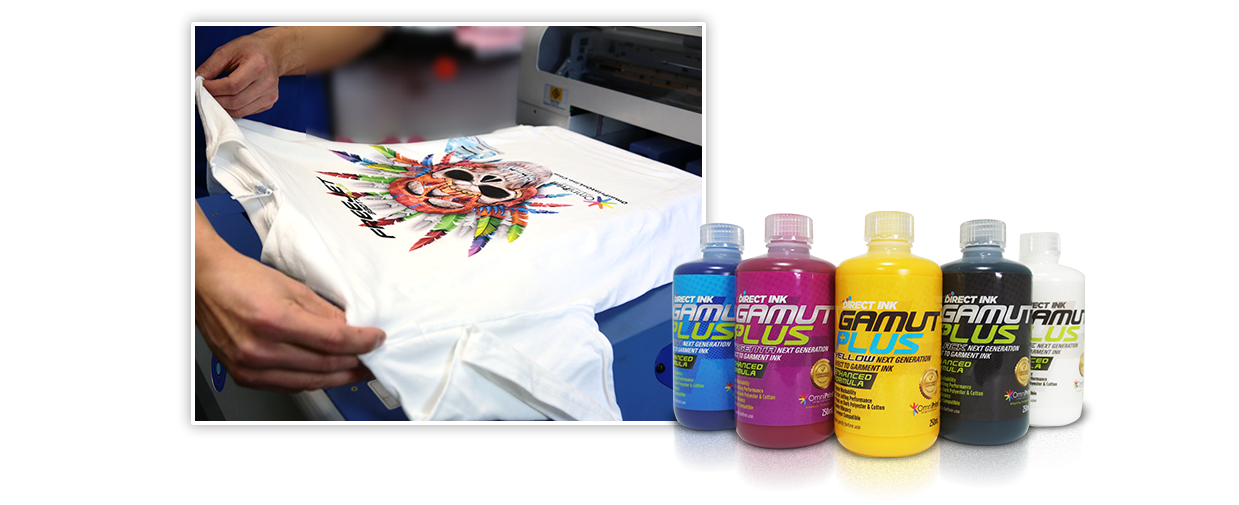 The Best Quality DTG Ink!
Our award winning inks are scientifically formulated to ensure color vibrancy, washability, and longevity all at the lowest cost per print.
The OmniPrint QC team is dedicated to ensuring that all of our inks perform consitently, so you can rest assured that your prints are always vivid and long lasting!

Supported Print Heads
Is your print head listed here?
Contact us now
to see how you can get a free sample!
| Print Head | Compatible Ink |
| --- | --- |
| Epson(R) DX5 | Gamut Plus, Direct Ink |
| Epson(R) DX7 | Gamut Plus, Direct Ink |