Freejet 330TX DTG Printer
Wet Cap. No Clogs. Always Ready.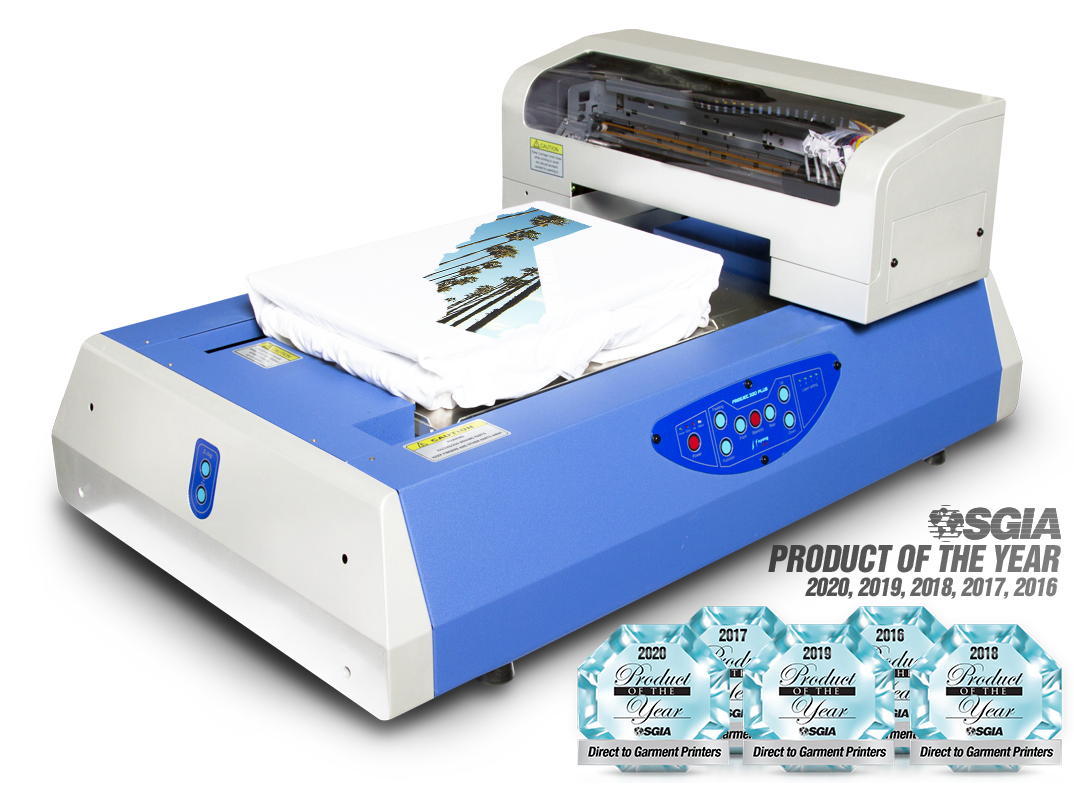 Vivid Prints Every Time.
WetCap No Clog Maintenance System
Expert technical support
Seamless printing with superior quality on light or dark garments
Easy to use and maintain Direct to Garment printer
Ideal for home-based business or commercial use
Bulk ink system for cost advantage
Best T-shirt printing machine for white, colors and black shirts
Also print sweatshirts, tote bags, polo shirts, baby onesies, denim and more
Direct to Garment. The Future is Now.
Direct to garment printing, also known as DTG, is an evolving and exciting technology for rapid fulfillment of personalized garments and related promotional products. Individuals and existing commercial imaging businesses are using DTG to launch increasingly successful and profitable lines of business.
Screen printers traditionally turned away short run (less than 20 pieces) or one-off print orders because the technology required costly setup time and materials, which discouraged customers from even ordering. Customers also developed a mindset of limiting their imagination to one, two or perhaps four colors. Heat transfer solutions, while somewhat effective for full color images, still required painstaking color matching and created headaches for adhesion.
After years of testing and research, the founders of OmniPrint launched the Freejet Direct to Garment printer. It has the capacity to print in vibrant, full color onto light and dark garments, using industry-standard high quality CMYK and white inks. When you use the best equipment and supplies, every order can be profitable, even single shirt orders, at prices your customers find very affordable.
The Freejet 330TX Solution
The Freejet 330TX model is the best quality printer in its class as well as the best value. The 330TX is the ideal solution for a start-up t-shirt business, a garment decorator looking to supplement their screen printing or embroidery business, or even a commercial print business seeking to add new product lines.
Why Freejet Replaces Other DTG Printers
In a word, quality. The Freejet offers unique features and systems that make it more cost-effective and reduce or eliminate downtime that results in lost business. Other DTG printers suffer from clogged print heads, stopping during print processes, component breakdowns that require weeks or months of repair and shipping downtime, and poor color matching between source image and printed results. That's why OmniPrint Freejet is the preferred choice of experienced DTG owners to add to or replace their existing machines.
Printer Model
FreeJet 330TX
FreeJet 330TX Plus
Cheetah
OmniPrint i2
Print Area Dimensions
12.5" x 22"

additional platen sizes available

12.5" x 22"

additional platen sizes available

Two 16" x 20" Platens
16" x 20"
Printing Substrates
100% cotton and
cotton blends
Cotton, Cotton/Poly Blends,
100% Polyester (all colors)
Cotton, Cotton/Poly Blends,
100% Polyester (all colors)
Cotton, Cotton/Poly Blends,
100% Polyester (all colors)
Colors
8 Channels:
CMYK + WWWW
or CMYK + CMYK
8 Channels:
CMYK + WWWW
or CMYK + CMYK
Green, Orange, Yellow,
Magenta, Cyan, Black,
White1, White2
Yellow, Magenta, Cyan, Black, and White
Print Direction
Bi-directional/
unidirectional
Bi-directional/
unidirectional
Uni/Bi Directional Printing
Uni/Bi directional printing Single pass printing / Layer mode printing
Ink Types
Direct Ink powered by
DuPont Artistritm
Direct Ink Gamut Plus
Water Based Pigment Inks
Direct Ink Industrial Series
Water Based Pigment Inks
Textile water based pigment ink
RIP software
DirectRip Included
DirectRip Included
DirectRip with Color iOs
DirectRip
Software Requirements
Windows 7 or above
Windows 7 or above
Windows 7 or above
PC Included
Windows 7 or above
Garment Detection
Automatic, up to 5"
Automatic Adjustment using optical sensor up to 5 inches
Automatic Height
- Garment Detection System
Automatic laser height adjustment
Dimensions
25" Width x 42" Length
x 18" Height
25" Width x 42" Length
x 18" Height
10ft Width x 6ft Length
x 6ft Height
120" Width x 66" Length x 66" height
Weight
150 lbs.
150 lbs.
2900 lbs.
250 lbs. approx.
Expand Your Print Area
Looking for a specialized platen for your shop? The FreeJet 330TX and FreeJet 330TX Plus models have interchangeable platens to cover a variety of print areas and surfaces.
Wet Cap,
No Clog System
Our exclusive wet-cap/no clog system preserves the life of the print head. This system creates an AIRTIGHT enclosure for the print head, shielding it from the elements and safeguarding against ink clogs. Even when it's not in use, the Freejet can stand for weeks at a time with no daily maintenance. When you're ready to print, whether it's Monday morning after a weekend or January 2 after a two-week absence, the printer is ready to go.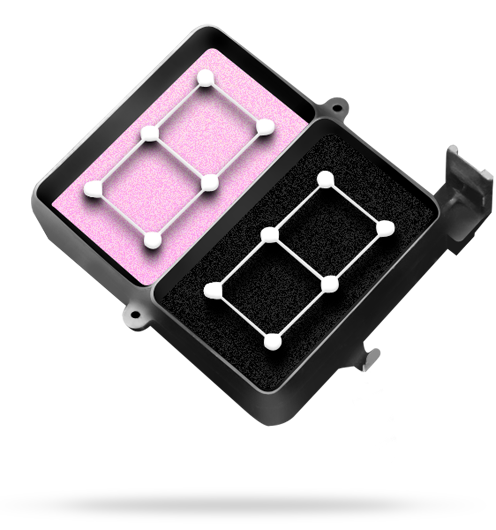 Simple, Easy to Use DirectRip™ Software
FreeJet uses our industry leading proprietary DirectRip software for seamless printing on any light or dark garments. You can even speed up your production by beginning the print cycle while the file completes the RIP process – no more waiting.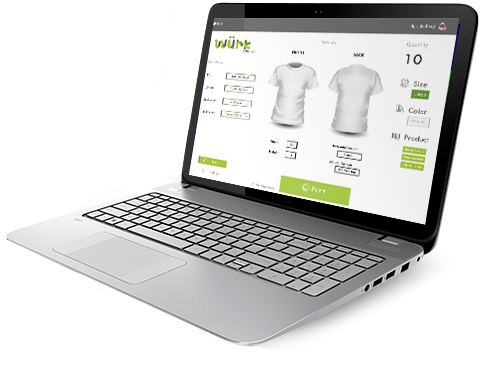 Direct Ink for Lasting, Vibrant Prints
Using our Direct Ink (powered by DuPont Artistri), the Freejet produces bright and vivid prints on light and dark garments with optimal wash fastness on both cotton and cotton blends. Our owners say the washability of our inks is comparable to or better than screen printing. Not only does Direct Ink produce great results, it costs as much as 66% less than competitor's inks and works with a bulk ink system. No more fussing with cartridges that create a failure point!
Printer Model
Freejet 330TX
Freejet 500TX
Freejet 700TX
Dimensions
25" x 42" x 18"
24" x 50" x 24"
47" x 90" x 47"
Weight
150 lbs.
300 lbs.
480 lbs.
Print speed: white garment
10x10 image,


45 seconds at 1440x720

10x8 image,


1 minute

A1 5 minutes


@ 720 dpi

Print speed: dark garment
10x8 image,


4 minutes

Print area dimensions
12.79" x 22.75"
17" x 30"
17" x 30"
Height adjustment
Automatic, up to 5"
Automatic, up to 5.9"
Automatic, up to 5.9"
Power requirements
AC 110/220 25W;
70 VA active/20VA idle
AC 110/230 25W
AC 230/110, 25W
Available platens
Hat, 2 up adult, regular
adult, youth, sleeve, infant
Smart platen
configurations available
Smart platen
configurations available
Printing method
Direct to garment ink jet printing
Print head technology
Ink jet piezo drop on demand
Maintenance
Auto maintained with wet cap no clog system
Print direction
Bi-directional/unidirectional
Interface
USB 2.0
Printing resolution
Up to 2880 x 1440
Software requirements
Windows® XP or later
Ink type
Direct Ink powered by DuPont Artistri
Ink channels
8 Channels: CMYK + WWWW or CMYK + CMYK, 180 nozzles per channel
Ink supply method
High flow bulk ink system
Garment pre-treatment
Required when using white ink
Voltage
AC 110 / 220 25W
Power consumption
70 VA (varies on activity) 20VA (idle)
Environmental conditions
Temperature 10-35C / humidity 20%-80%
RIP software
DirectRip Included
Printing substrates
100% cotton and cotton blends
Best Substrate Versatility on the Market!
With our Interchangeable Platen System and moving head technology you can virtually print on anything with ease. Instantly print on t-shirts, hoodies, hats, towels, mouse pads, jeans, and much more!