Fastest and Highest Quality DTG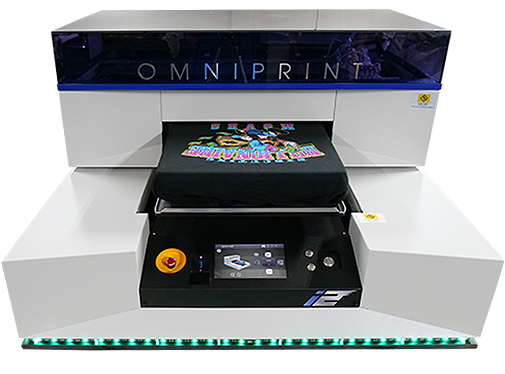 Huge, High Resolution Print Area
Print up to 16" x 20", Print Resolutions up to 4800 DPI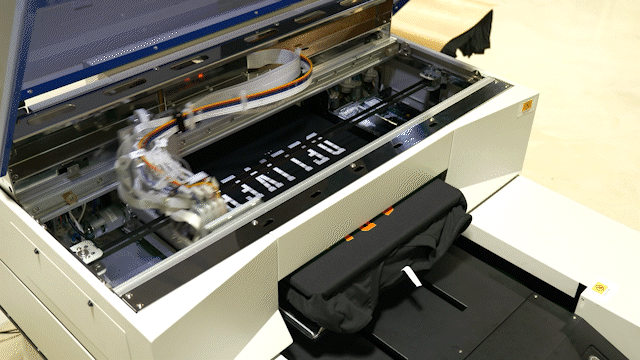 Industrial Ink System
Saves You Money
Gamut Plus i2 Inks give you the lowest cost per print. The OmniPrint i2 also features integrated white ink circulation and stirring.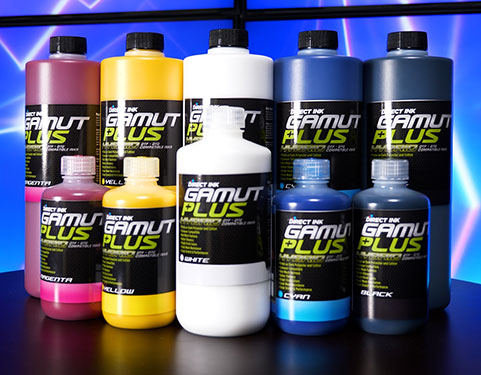 Designed For High Speed and Quality
Print a 12'' x 12'' image as fast as 55 , seconds on a white shirt & 90 seconds on a dark shirt
Wurk Enabled
We have partnered with Wurk™, a comprehensive web-based production management solution that enables a truly automated direct to garment process from picking blanks to shipping a complete order. Wurkflow re-imagined™.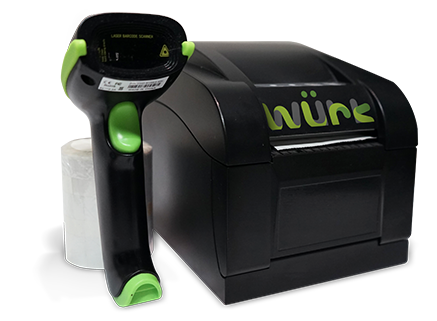 Dynamic Moving Print Engine and Print Bed System
Dynamic print engine and print bed enable the i2 to quickly produce high quality prints
Cotton and Polyester Printing Capabilities
Prints on cotton & polyester t-shirts, hats, bags, shoes & more!
Fast And Easy DTF Transfer Printing
Built from the ground up to print both DTG and DTF
Testimonials
See what the experts have to say about the OmniPrint i2!
Technical Specifications
| Model | OmniPrint i2 |
| --- | --- |
| Numbers of Print Head | 2 Print heads (4 channels per print head) |
| Color Configuration | Yellow, Magenta, Cyan, Black, and White |
| Printing Resolution(dpi) | 600x600, 600x1200, 1200x1200, 1200x1800, and 1200x2400 |
| Printing Mode | Uni/Bi directional printing Single pass printing / Layer mode printing |
| Ink type | Textile water based pigment ink |
| Printing Size | 16inx20in (400mm x 500mm) |
| Interface | USB 3.0 & Ethernet |
| Weight | 250 Lbs. approx. |
| Dimension | 56" x 39" x 24" |
| Memory | 64MB |
| Voltage/Power | AC 110 / 220V Selectable |
| Operating system | Windows 10 64bit i2 UI and Rip software |
| Environment | Temp. : 10 - 35 C。 Humidity : 20 - 80% (no condensation) |
Why Your Print Shop Needs to Offer Both DTG and DTF Printing - 5 Benefits Explained
If you're a print shop owner looking to expand your offerings and attract a wider range of customers, adding both DTF (direct-to-film) and DTG (direct-to-garment) printing to your services is a smart move.
Here are 5 reasons why:
Increased versatility: By offering both DTF and DTG printing, you'll be able to cater to a wider range of customers and their unique needs. Whether they're looking for custom t-shirts for a sports team or custom full color neck tags, you'll be able to provide the perfect solution.
Greater profitability: Offering both DTF and DTG printing allows you to tap into new markets and revenue streams, ultimately leading to increased profits for your business. Keep your customers by offering both services. You don't want to lose customers to other shops because they offer both.
Competitive advantage: By constantly updating your equipment and knowledge, you can ensure that your shop stays ahead of the curve and continues to offer the latest and greatest in printing technology.
Improved workflow: Having both DTF and DTG printing capabilities in-house means you can reduce outsourcing, streamline your workflow and increase your efficiency. Printing your own provides a faster turnaround time to your customers.
Become a mini fulfillment center for others: DTF and DTG printing produce different types of artwork, DTF is suitable for large format graphics, decals, and signs, while DTG is ideal for printing on t-shirts, hoodies, and other clothing items. This diversification of your portfolio will make your print shop more attractive to a wider range of customers.
It's important to note that DTF printing is a process where ink is printed directly onto a transparent film, which is then applied to a variety of substrates, including hats, t-shirts, backpacks, shoes, and much more. The advantage of DTF is its ability to produce full color digital water based transfers that you can sell to others or press yourself for your orders.
DTG printing, on the other hand, is a process where ink is directly injected into the fibers of a garment. This allows for high-quality, full-color prints that are vibrant and long-lasting. The advantage of DTG is its ability to print on a wide range of textiles, even with complex designs and multiple colors.
It's important to note if your customers need the softest feel on the garment that more demanding retail customers need.
In conclusion, offering both DTF and DTG printing to your customers can help you increase your revenue, improve your workflow, and gain a competitive edge in the marketplace. It's a smart move that will take your print shop to the next level.
Don't miss out on the opportunity to take your print shop to the next level by offering both DTG and DTF printing. Get more information at
https://omniprintonline.com/omnidtf-dtf-printer
to learn more about our state-of-the-art DTF printer, the OmniDTF. With its high-quality output and advanced features, this printer is a game-changer for any print shop looking to expand their offerings and increase profits. Don't wait, click the link now and take the first step towards growing your business!
Are you looking to take your print shop to the next level with the latest in DTG printing technology? Look no further than the Omniprint i2 Direct to Garment printer! This state-of-the-art printer is designed to deliver high-quality, vibrant prints with ease and efficiency at super fast speeds! Whether you're looking to print custom t-shirts or other garments, the i2 is the perfect solution. To learn more about this cutting-edge printer, visit https://omniprintonline.com/i2-dtg-directtogarmentprinter and take the first step towards growing your business. Don't miss out!
Want to take your print shop to the next level? Learn more about DTG and DTF printing in a hands-on workshop! Our workshop is designed to help you understand the key differences between the two printing methods, and how to get the most out of each one. You'll also have the opportunity to see our state-of-the-art DTF printer, the OmniDTF, in action. The workshop will take place at
https://creators.omniprintonline.com/workshop
,sign up now and don't miss out on this opportunity to learn from the experts and take your print shop to the next level.